portail - accueil - news - musiciens - photos - audio - dates - liens - contact - fiche technique
LES MUSICIENS
Julien Biget - Jef Perroy - Xavier Laune - Gabriel Lenoir
Julien Biget : guitar, vocals, bouzouki, bodhran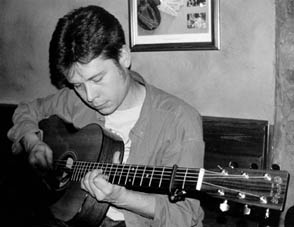 Julien's guitar tuning is quite unusual (CGDGCD) and his very personal style is an important part of the band's sound. Rich, complex and yet very powerful, his playing perfectly enhances Gabriel, Jef and Xavier's melodies. Besides, Julien is also a great singer : his warm low voice is best enjoyed in the "sss" (slow sad songs !) he carefully selects. Julien plays in several bands : Mojo Band, La Bergère, Valerio, Mouchafou, Le Tire-Laine, Jan Steho, Première Pression à Froid... He has worked and shared stages with Gabriel Yacoub, Jimmy Hope, Sprigs, Helen Flaherty and many others.
Utilisant des accordages inhabituels, le jeu original et très inventif de Julien est pour beaucoup dans la personnalité de DISTANT SHORES. Tant à la guitare qu'au bouzouki, son style est à la fois dynamique et très riche.
Julien est aussi un chanteur exceptionnel. Prenante et grave, sa voix peut évoquer celles de DICK GAUGHAN et JAMIE Mc MENEMY, deux de ses influences.
Il fait également profiter le quatuor de ses grands talents d'arrangeur.
Parallèlement à DISTANT SHORES, Julien est également membre du MOJO BAND (blues), de la Compagnie du TIRE-LAINE ("Contes World"), du trio LA BERGERE (avec Sylvie Berger et Emmanuel Pariselle), du quatuor franco-irlandais VALERIO (Kieran Fahy, Serge Desaunay, Julien Favreuille, Julien biget), du trio PREMIERE PRESSION A FROID et de MOUCHAFOU (Centre-France).
Il a participé aux groupes belges ALICANTES (de Didier François) et LITTLE CAILLOUX (cajun) ainsi qu'au JARDIN DES MYSTÈRES d'Eric Montbel, a enregistré avec la chanteuse écossaise Helen FLAHERTY (de Shantalla) et a eu l'occasion de travailler et de partager la scène avec Gabriel YACOUB, Vincent LEUTREAU, Jan STEHO, Jimmy HOPE et bien d'autres…
Julien Biget - Jef Perroy - Xavier Laune - Gabriel Lenoir
portail - accueil - news - musiciens - photos - audio - dates - liens - contact - fiche technique
Jef Perroy : mandoline, tenor banjo, octave mandola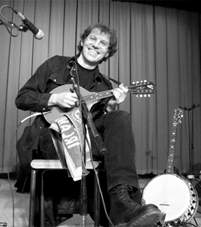 Hailing from Nantes (Brittany), Jef has always been attracted to Ireland and Irish music. He spent a whole year there in the late seventies and was very much impressed by the great bands of the time : Planxty, Bothy Band, De Dannan, Stockton's Wing, etc... In a more folk-rock vein, he belonged to various bands (The Windcatchers, Miscellany ...) before starting Open Road, a folk-pop duo of songwriters that released three CDs. Jef regularly attends the Irish music summer gathering of Tocane St Apre (Dordogne, France) where he followed the classes of great banjo players (Tom Cussen, Enda Scahill, Angelina Carberry, Bernie Conneely, Joanne O'connor). Jef is also a teacher and a painter (a stencil artist, hence his artist's name : Jef Aerosol)
Le son cristallin de la mandoline et le mordant du banjo, conjugués à la fluidité de l'harmonica et du violon, signent le "son" de DISTANT SHORES.
Passionné d'Irlande depuis son jeune âge, Jef y a vécu un an et a été particulièrement marqué par les groupes de l'époque : Planxty, Bothy Band, De Dannan, Stockton's Wing... qui demeurent son influence majeure.
Dans un registre plus "folk rock" ou "pop acoustique", il a appartenu aux groupes WINDCATCHERS, MISCELLANY et OPEN ROAD (duo de songwriters qui a signé trois CDs).
Fidèle des Rencontres Musicales Irlandaises de Tocane St Apre, Jef y a suivi les ateliers des banjoistes irlandais Tom Cussen, Enda Scahill, Angelina Carberry, Bernie Conneely, Joanne O'Connor...
Parallèlement à la musique, Jef poursuit une carrière de plasticien (Jef Aérosol : peintre pochoiriste) et d'enseignant.
Julien Biget - Jef Perroy - Xavier Laune - Gabriel Lenoir
portail - accueil - news - musiciens - photos - audio - dates - liens - contact - fiche technique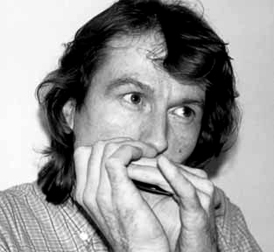 No doubt Xavier's harmonica makes Distant Shores a bit different from lots of Irish traditional music bands. Indeed, you won't find that many groups that use this little magic instrument to play reels and jigs... Xavier had been a blues mouth-harp player for quite a while when he discovered Irish music through the likes of the Murphy Family, Brendan Power, Mark Graham, Eddie Clarke, Mick Kinsella, James Conway... Needless to say that he got seriously hooked and has now become an amazing Irish music player himself ! He also used to play French Canadian music with Estaminet and still blows his blue notes as a member of the Mojo Band. Xavier regularly teaches in harmonica classes and workshops.
La singularité de DISTANT SHORES tient en grande partie à l'harmonica de Xavier. En effet, le "mouth harp" est assez peu utilisé en musique traditionnelle irlandaise et évoque généralement davantage le blues.
Xavier prouve à quel point ce petit instrument peut s'adapter au répertoire irlandais et enchaîne reels, jigs ou polkas avec une impressionnante maîtrise et une grande sensibilité.
Il cite volontiers les influences suivantes : Mark Graham, Brendan Power, Murphy Family, Eddie Clark, James Conway...
Également harmoniciste de blues, Xavier appartient au MOJO BAND et a eu l'occasion de jouer avec Jimmy Hope, The Growlers, Jean-Jacques Milteau, James Conway...
Il a pratiqué la musique québécoise avec ESTAMINET et rejoint parfois le ZIK TRIO (musiques celtiques et d'ailleurs...)
Xavier anime régulièrement cours et stages d'harmonica.
Julien Biget - Jef Perroy - Xavier Laune - Gabriel Lenoir
portail - accueil - news - musiciens - photos - audio - dates - liens - contact - fiche technique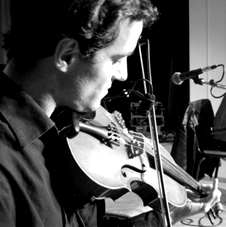 Extremely driving though very subtle, Gabriel's playing finds its roots in the rich fidlle music tradition of Donegal. After several spells there, he has successfully defended two university thesis on that topic and has learnt a lot from the local musicians he's met and played with. Masters such as John Doherty, Tommy Peoples and Mairead Ni Mhaonaigh certainly top the list of his various influences. Gabriel also plays in several other bands (Shillelagh, Twiddly Dee, trio Guerbigny, Naragonia Quartet, etc...) and is fond of traditional dancing.
A la fois subtil et fougueux, le "fiddle" de Gabriel apporte à DISTANT SHORES cette couleur si particulière, indissociable de la musique traditionnelle irlandaise.
Particulièrement attaché au style musical du Donegal (nord-ouest de l'Irlande), Gabriel y a fait plusieurs séjours et a affirmé son jeu au contact des fiddlers locaux. Il a soutenu deux mémoires universitaires d'ethno-musicologie sur ce sujet.
Il compte parmi ses influences : John Doherty, Tommy Peoples, Mairead Ni Mhaonaigh...
Gabriel est également membre de Shillelagh (bal folk), du duo Twiddly Dee (irlandais), du trio Guerbigny (Poitou), du Naragonia Quartet (franco-belge) et de la troupe Marchands de Sornettes (spectacle de conte musical).
Il enseigne le violon au sein de "Cric Crac Compagnie", école de musiques traditionnelles sise à Villeneuve D'Ascq.
Féru de danse, il devient volontiers "caller" ou "maître à danser" lors de ceilis et bals folk.
Julien Biget - Jef Perroy - Xavier Laune - Gabriel Lenoir
portail - accueil - news - musiciens - photos - audio - dates - liens - contact - fiche technique